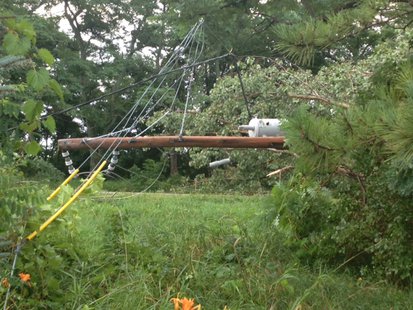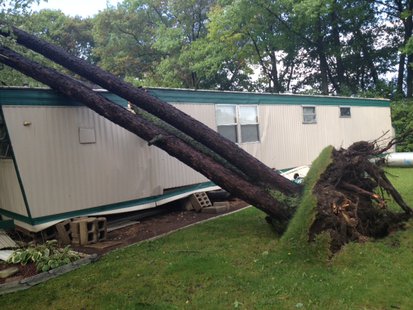 GREEN BAY, WI (WTAQ) - Strong storms rolled through Northeast Wisconsin Thursday, leaving a path of damage and power outages behind.
In Green Bay, officials say lightning struck the roof of the Dollar General on Main Street around 9 p.m. No one was hurt, but the damage is totaled at around $15,000.
Just under 11,000 electric customers in north central and northeast Wisconsin were still without power as of Friday afternoon.
Wisconsin Public Service says it's been a rough battle to get everyone back on line. There are more than 400 WPS crews, employees and contractors working on restoring power.
Crews reported numerous poles broken in half, trees uprooted/split in half and lines wrapped within branches and roots. Other issues wires laying on the ground.
Restoration will continue throughout the night and into Saturday evening.
Friday morning, WPS said it brought in about 100 outside repair personnel to fix power lines and poles. Those facilities were damaged by high winds, hail, and torrential rains of up to 7 inches in Door County. You can view the latest outage information here.
Xcel Energy still had about 1,600 customers out Friday afternoon in northwest Wisconsin.
Door County Emergency Management officials report some flooding in Sister Bay and Bailey's Harbor. Right now, officials say there is no time frame for the problems to be resolved. Anyone in Door County who needs help because of flooding or other storm-related damage can call (920) 746-2396. Emergency calls should still go to 911.
Highway 42 between Ephraim and Fish Creek, near Peninsula State Park's golf course, is closed. Transportation officials say rain washed out part of the ditch next to the highway. Traffic is being detoured onto Holland Road. The road is expected to reopen Friday afternoon.
The National Weather Service reports that rainfall from the storm created flooding in some areas further hampering restoration efforts. A few simple steps can keep a family safe if the basement floods:
Safety first. Don't step in floodwater. Before going into the basement, ask WPS or your local fire department to turn off your electricity and natural gas.
Dry Up. Drain the area using a gasoline-powered water pump located outside the home, or an electric pump connected to an outside line.
Use Your Nose. If you smell natural gas, leave immediately. Don't operate gas or electric appliances. Call the WPS 24-hour gas emergency number at 800-450-7280 from your mobile phone or a neighbor's home.
Check It Out. Hire a qualified contractor to inspect the gas or electric appliances, such as furnaces, water heaters and dryers. WPS can restore your service when they've been inspected and are safe for to use.
People are reminded to avoid downed power lines and treat all lines like they are still energized. Downed lines can become entangled with fallen trees making cleanup work especially dangerous.