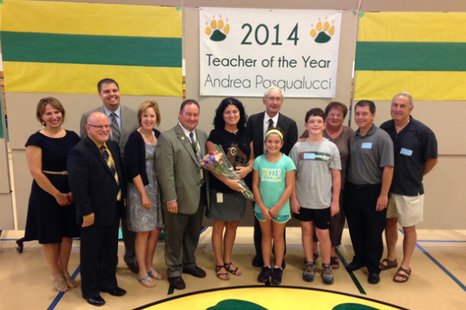 ASHWAUBENON, WI (WTAQ) - A local educator got a huge surprise during the first week of school.
Valley View Elementary School's social worker Andrea Pasqualucci was honored Thursday morning as the Wisconsin Special Services Teacher of the Year.
State Superintendent Tony Evers appeared at the Ashwaubenon school to present the award.
Pasqualucci was honored for developing a number of programs and partnerships in the community to help students who are homeless or have a low family income.
"There's a whole team of people in schools that hope to contribute to the success of students, so to be recognized for such a great honor, such a great award," she told FOX 11. "And for people to understand everything that goes into helping kids be successful in school."
Pasqualucci has been with the district for 7 years.
Along with the award, Pasqualucci will receive a $3,000 grant from the Herb Kohl Educational Foundation. She is not sure yet what she'll do with the money.
(Additional reporting from FOX 11).