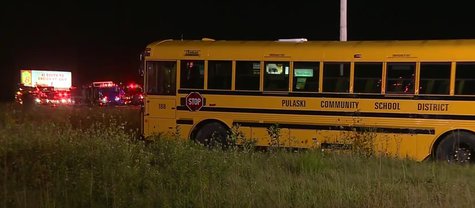 PULASKI, WI (WTAQ) - One person is dead and 14 others were hurt following a crash involving a Pulaski school bus and a car.
It happened around 9 p.m. Tuesday on Highway 29. The bus was driving northbound from Highway 156 across Highway 29 to St. Augustine Street. The car had been traveling westbound on Highway 29 when it struck the passenger side rear corner of the bus.
According to authorities, a 24-year-old Athens woman, who was a passenger in the car, was pronounced dead at the scene. The driver, a 27-year-old Marathon man, was taken to a Green Bay hospital with severe injuries.
Superintendent Milt Thompson says the bus was carrying 26 people – 22 students, 3 volleyball coaches and the driver.
The bus was carrying the girls' volleyball team home from a match at Seymour High School. Six students were rushed to the hospital and the rest were released to their parents.
All students have since been released from the hospital.
Counselors are available Wednesday at Pulaski High School.
(Additional reporting from FOX 11).