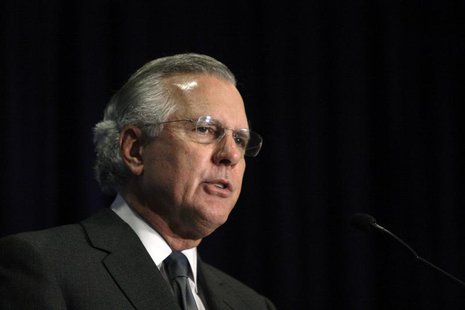 NEW YORK (Reuters) - The Federal Reserve will keep interest rates near zero until it is confident the U.S. economic recovery has taken hold, a top Fed policymaker said in an interview on Tuesday, reinforcing the central bank's view that there would be a "considerable time" between the end of bond-buying and a move to tighten policy.
"We will hold the base rate at a low range until we're certain the recovery is well under way," Richard Fisher, president of the Federal Reserve Bank of Dallas, told Reuters.
"Whether that is six months or 'X' months, that is the intention of the (Fed's policy-setting) committee and I support that," he said of the recess between the last of the stimulative asset purchases and a tightening, adding: "Obviously you have to be watchful you don't overstay" with rates so low.
(Reporting by Jonathan Spicer; Editing by Chizu Nomiyama)