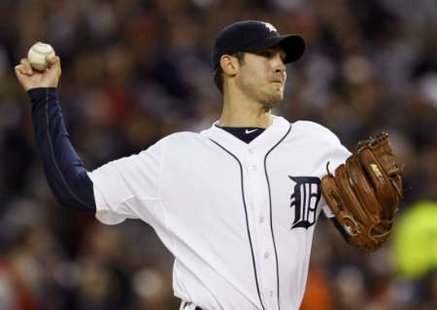 UNDATED (WHTC) --The Tigers are on a tear after beating Kansas City three games in a row, winning Saturday night, 5-1. That makes five in a row for this road trip. Rick Porcello allowed one run in seven innings in earning his 12th win. The Tigers now hold their lead at 7 1/2 games, the best of the season. Justin Verland has the start for the Tigers this afternoon, then it's off tothe All-Star Game for several Tigers players.
A rally in the fifth inning was short and the Cubs got pounded by the Braves, 11-6 on Saturday. Edwin Jackson had a bad outing for the Cubs, surrendering nine earned runs on seven hits, including three home runs in just 3 2/3 innings. Travis Wood gets the call today as the Cubs finish out the first half of the season at Wrigley Field.
The White Sox faced a few difficulties on Saturday, losing All-Star shortstop Alexei Ramirez and starting pitcher Scott Carroll to back stiffness. A failed reply challenge in the seventh inning led to a run by Cleveland but in the end, the White Sox got the win, 6-2. They got a little help from Jose Abreu, who launched his 29th home run of the season. John Danks is on the mound for the White Sox this afternoon.
Defense was the name of the game for both teams but the Whitecaps ended up with the win, beating the Dayton Dragons, 2-0 on Saturday night. The two clubs combined for 24 strikeouts without an extra base hit. The Whitecaps got their fifth shutout win of the year and have improved to 5-3 on the 10-game roadtrip. The Whitecaps face Dayton again this afternoon.
Story by: Diane E Coston