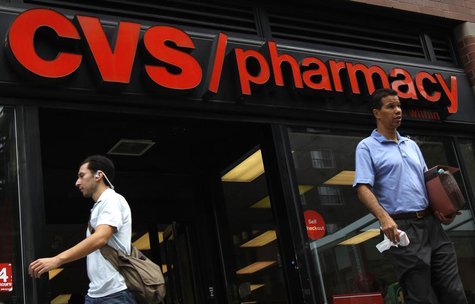 (Reuters) - CVS Caremark Corp posted higher quarterly profit on Tuesday as it processed more prescriptions and benefited from the introduction of new generic drugs, helping it offset a drop in store visits by customers.
CVS, which operates the No. 2 U.S. drugstore chain and a major pharmacy benefits management business, raised its first-quarter profit forecast by 7 cents per share to a range of $1.03 to $1.06. It stuck to the 2014 forecast from December and still expects adjusted profit of $4.36 to $4.50 per share this year.
Revenue in the quarter ended December 31 rose 4.6 percent to $32.83 billion, beating analyst forecasts of $32.67 billion, according to Thomson Reuters I/B/E/S, despite two impediments.
CVS's pharmacy services unit processed 0.3 percent fewer network claims because of lower membership in a Medicare plan aimed at seniors. The company was hit by sanctions placed on CVS last year by the Centers for Medicare and Medicaid Services over its marketing of the plan.
The government lifted its sanctions in December, allowing CVS to resume enrolling members last month.
Another challenge was a drop in the number of visits to stores, a problem that has also hit rivals Walgreen Co and Rite Aid Corp. That contributed to a 1.9 percent decline in sales of general merchandise at stores open at least a year last quarter.
Still, the company filled 3.8 percent more prescriptions and sold more generic drugs which cost less but have larger profit margins.
CVS earned $1.27 billion from continuing operations, or $1.05 per share, in the fourth quarter, up from $1.13 billion, or 90 cents per share, a year earlier. On an adjusted basis, it reported a profit of $1.12 per share, a penny better than expected.
Shares rose 2.5 percent to $68.60 in premarket trading.
CVS announced last week it would stop selling all tobacco products at its drugstores by October, making it the first national drugstore chain in the United States to take cigarettes off the shelves.
(Reporting by Phil Wahba in New York; Editing by Jeffrey Benkoe and Sofina Mirza-Reid)