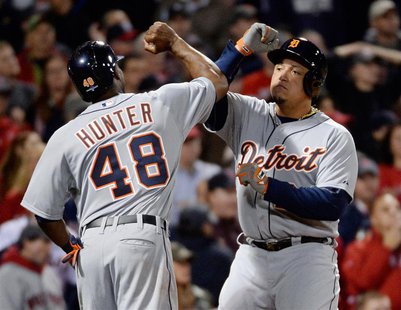 Torii Hunter carried the Tigers offense through the first five innings of Saturday's game against the Baltimore Orioles, driving in five runs as Detroit topped Baltimore 7-6.
The win keeps the Tigers out of the loss column early in the season, improving their record to 4-0. Baltimore fell to 1-4 with the loss.
Rick Porcello earned his first win of the season in the start, giving up one earned run and striking out three in 6 2/3 innings of work.
The Tigers carried a six-run lead into the ninth inning before the bullpen gave up five runs to the O's. Baltimore had the tying run on second base but could not get the win.
Hunter started the scoring in the bottom of the third with a three-run double, then followed up that at-bat in the fifth inning with a two-run home run. Don Kelly and Rajai Davis also drove in runs in the win.
The Tigers will look to pull off the three game sweep before a west coast swing when Detroit takes on Baltimore on Sunday. Dan Dickerson and Jim Price will have the call beginning at 12:40 p.m. on 590 WKZO.
Text SCORES to 80373 to have the score from each Detroit Tigers game sent to your phone.