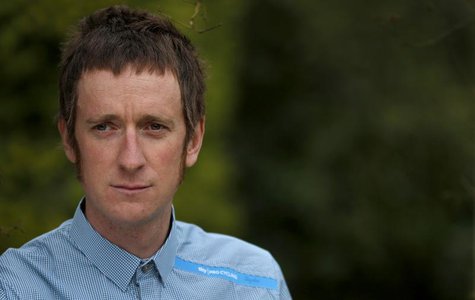 By Alasdair Fotheringham
TREVISO, Italy (Reuters) - Tour de France champion Bradley Wiggins's chances of winning the Giro d'Italia have disappeared, his Team Sky principal Dave Brailsford said on Thursday but the sick Briton may battle to the end of the race.
Wiggins, suffering from a chest infection, was dropped by the main pack in the last hour of a rainlashed stage 12 and finished three minutes and 17 seconds back on winner and compatriot Mark Cavendish.
Overall the multiple Olympic gold medalist and pre-race favorite dropped to 13th, 5:22 down on Italian leader Vincenzo Nibali.
"The GC (general classification) has gone, but he's still got the rest of the race," Brailsford told reporters. "He's still in the race. Let's see what happens overnight.
"He's got a chest infection and a severe head cold and that caught up with him today," Brailsford said of Wiggins who has been taking antibiotics for the last few days.
"I think he's brave and showed a lot of courage to get on his bike. When you open the curtains and are feeling as sick as he was, the last thing you want to see is the pouring rain.
"We all had colds and the flu and we all know how he feels. I'm sure some of us would call in sick and have a day off, but these guys can't do that."
The Giro had been this season's major goal for Wiggins but the 33-year-old has suffered a run of bad luck since the race began in Naples on May 4, including a downhill crash, missing out on a time trial win because of a puncture and now illness.
"We've had a lot of things that went our way and not a lot of setbacks," said Brailsford. "In the fullness of time these things come along and you've got to take them in your stride.
"If he (Wiggins) recovers, he could focus on the (stage 18) time trial and commit to helping the rest of the team. He's going to have to be pretty ill to stop."
Despite Wiggins's misfortune, Team Sky are still in the fight for the overall classification, with Colombian rider Rigoberto Uran lying third overall, 2:04 behind leader Nibali.
"He looks in good shape and so for us it's still a very exciting race and we'll try to get on the podium or even better with Rigoberto," said Brailsford.
The Giro d'Italia finishes in Brescia on May 26.
(Editing By Alison Wildey)