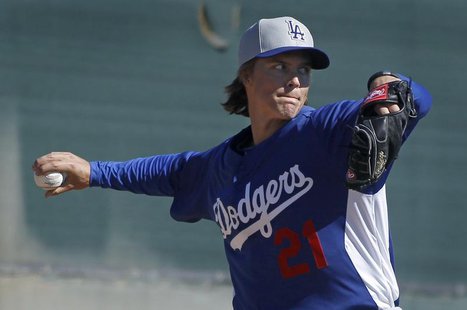 (Reuters) - High-priced pitcher Zack Greinke has been diagnosed with inflammation in his right throwing elbow on Monday but is still expected to be ready for the regular season, the Los Angeles Dodgers said.
Greinke, who was scheduled for a pre-season start on Monday before being scratched, has been bothered by his ailment since the beginning for the month and his examination revealed no structural damage.
The Dodgers said he would begin a throwing program in a few days and was expected to make his regular season debut on April 2.
"That could change, but I expect him to (start)," Dodgers manager Don Mattingly told the team's website (www.losangeles.dodgers.mlb.com). "It sounds really positive."
The Dodgers signed Greinke to a lucrative six-year, $147 million contract in the off-season in hope that he would solidify their pitching rotation behind ace Clayton Kershaw.
Greinke, a Cy Young winner in 2009, went 15-5 with a 3.48 ERA last season during a campaign split between Milwaukee and the Los Angeles Angels.
(Writing by Jahmal Corner in Los Angeles, editing by Amlan Chakraborty)