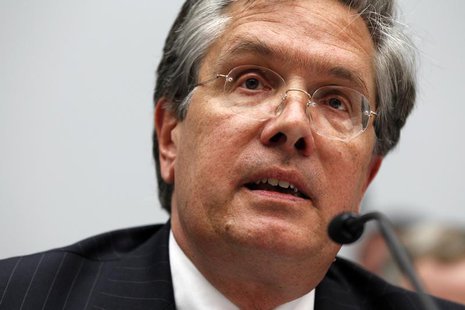 WASHINGTON (Reuters) - Bank regulators are considering directly punishing bank employees and executives who violate anti-money laundering laws, top regulators told lawmakers on Thursday.
Regulators and law enforcement authorities have recently entered into several major settlements with top banks to resolve money laundering allegations, but have faced criticism because those actions have not resulted in charges against any bank executives.
Comptroller of the Currency Thomas Curry told a Senate panel that his agency was exploring regulatory changes to "enhance our ability to take removal and prohibition actions against bank officers, directors and employees" that violate the Bank Secrecy Act (BSA).
The Treasury Department's David Cohen, who is under secretary for terrorism and financial intelligence, told the Senate Banking Committee that his agency was exploring similar changes.
"We also intend to make use of additional tools at FinCEN's disposal to ensure that those who violate the BSA are held accountable," Cohen said in prepared remarks.
FinCEN, a unit within the Treasury Department that focuses on money-laundering issues, can obtain injunctions and civil penalties against individuals that violate the law, but has employed these tools only occasionally in the past, Cohen said.
"In the future FinCEN will look for more opportunities to impose these types of remedies in appropriate cases," he said.
Lawmakers have stepped up pressure on regulators and the Justice Department over their resolutions involving bank misconduct, questioning whether some institutions had become too big to prosecute.
On Thursday, Senator Tim Johnson, a South Dakota Democrat who chairs the Senate committee, said in opening remarks: "We should consider today the full range of remedies in cases like these, including BSA injunctions, banning from the industry those individuals who violate the rules, suspending a particular kind of activity or line of business at a bank in response to violations, and other measures."
(Reporting by Anna Yukhananov and Aruna Viswanatha; Editing by Maureen Bavdek and Bernadette Baum)