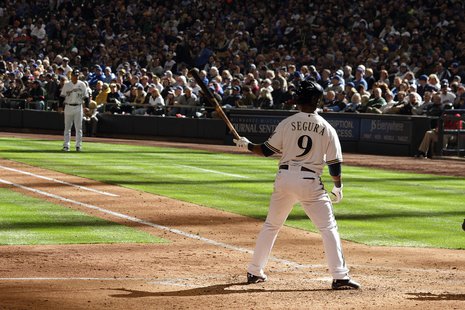 NEW YORK (WTAQ) - The National League was held to just three hits Tuesday night in losing to the American League 3-0 at the Major League All-Star Game in New York.
Milwaukee's two representatives – Jean Segura and Carlos Gomez – both went 0-for-1 at the plate. Segura was a late entry at shortstop, and Gomez finished the game in right field.
Both were victims of New York Yankees' closer Mariano Rivera, as Segura made the first out and Gomez the final out in a 1-2-3 8th inning.
The 43-year-old Rivera, who will retire after this season, was named the game's MVP.
Former Brewers' shortstop J.J. Hardy of Baltimore drove in the final American League run on a groundout in the 5th inning. Former Wisconsin Timber Rattler Adam Jones of Baltimore scored on the play, after he doubled to open the frame.
Hardy started at short for the American League and went 0-for-2. Ex-Brewers' first baseman Prince Fielder tripled in his only at bat.
Former Milwaukee prospect Nelson Cruz went 0-for-1 with a walk. And ex-Brewers' reliever Grant Balfour pitched a scoreless inning with a walk and a strikeout.
The break continues for two more days. The Brewers will return to action on Friday night at home against the Miami Marlins.