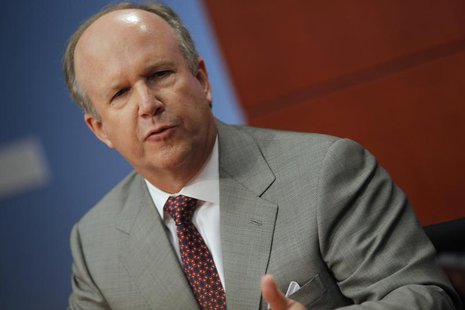 (Reuters) - Tenet Healthcare Corp on Tuesday reported a fourth-quarter profit versus a year-ago loss as outpatient hospital visits increased and said it sees health reform next year will have a positive impact on earnings.
An estimated 26 million people, many of them now uninsured, are expected to obtain coverage through health insurance exchanges being set up under the U.S. Patient Protection and Affordable Care Act.
Tenet, the No. 3 for-profit U.S. hospital chain, said it has traditionally served a larger number of uninsured patients than other publicly traded chains. This burden is expected to diminish as those patients are insured through the exchanges, beginning in 2014.
"We see a lot of upside in our markets," Tenet Chief Executive Trevor Fetter said on a conference call.
Fetter said Tenet recently signed its first contracts with three Blue Cross and Blue Shield plans for health insurance to be sold through the exchanges, covering about 30 percent of its hospitals. The plans have a similar structure as its commercial contracts, with a pricing discount of less than 10 percent from current rates.
"Where we have accepted any discount at all, it is for additional market share," Fetter said.
Tenet posted fourth-quarter earnings of $49 million, or 45 cents a share, compared with a loss of $76 million, or 70 cents a share, a year earlier, when the company took a large charge for the early retirement of debt.
Adjusted earnings before interest, taxes, depreciation and amortization (EBITDA) increased 16.7 percent to $336 million. Net operating revenue rose 7.3 percent to $2.33 billion.
Tenet reiterated its outlook for 2013 EBITDA of $1.325 billion to $1.425 billion.
In the fourth quarter, Dallas-based Tenet said adjusted patient admissions rose 2.9 percent, with outpatient visits up 7.3 percent and outpatient surgeries climbing 13.9 percent. Total admissions were flat, while emergency room visits increased 8.6 percent.
Uninsured and charity admissions rose 1.1 percent. Bad debt expenses as a percentage of revenue was 7.9 percent, up from 7.7 percent from a year ago, as more uninsured patients sought treatment, Tenet said.
Tenet shares were down 1.4 percent at $37.12 on the New York Stock Exchange.
(Reporting by Susan Kelly in Chicago; Editing by Gerald E. McCormick, Maureen Bavdek and Jeffrey Benkoe)