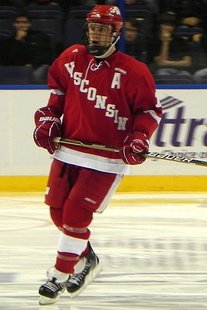 GRAND FORKS, N.D. (WTAQ) - It was a rough way to lose a winning streak.
In a game marred by several fights, 29 penalties and 106 penalty minutes, the Wisconsin Badgers lost at North Dakota 4-1.
It was the first time in 11 WCHA games Wisconsin had tasted defeat and it may be awhile before the teams meet again. Both will play in different conferences next season.
North Dakota scored the first 4 goals on the way to its first win in 6 games. Mark Zengerle scored the Badgers' only goal in the final period.
Wisconsin improved its record to 11-9-6, including 8-6-6 in conference.