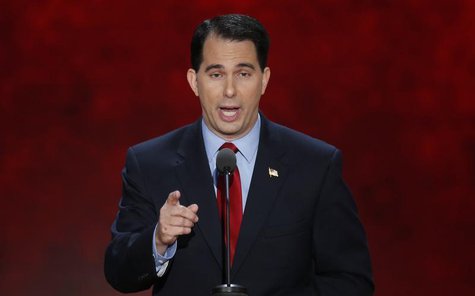 MADISON (WSAU-Wheeler News) Governor Scott Walker is preparing Wisconsinites for a discussion about tax cuts as he stands for re-election next fall. He's laying out a host of possibilities for the state budget he would propose in 2015 if he wins a second term. They include getting rid of the state income tax altogether -- or paying for technical colleges with the state sales tax instead of local property taxes.
Walker's office recently held a recent series of private meetings with business leaders to get their take. Early next year the Republican governor plans to involve the rest of us with meetings, an interactive Web site, and more. Walker tells the Milwaukee Journal Sentinel he does not have any preconceived notions -- he just wants to keep his promise of cutting taxes every year he's in office.
Meanwhile financial analysts and critics are raising questions about the effects of eliminating the income tax. Dale Knapp of the Wisconsin Taxpayers Alliance says the rich pay a disproportionate share of the income tax -- and they'd get a huge break if the tax is eliminated, while the poor would take a major hit if sales taxes are used to fund the government.
The Legislative Fiscal Bureau says the state sales tax would have to jump from 5-percent to 13-and-a-half percent -- the highest in the country -- if the income tax is scrapped.
Lawmakers have tried numerous times to get more sales revenue by taking away exemptions that various groups enjoy. Lobbyists for those groups helped kill every one of them. Assembly Speaker Robin Vos says any tax cuts for next year should be modest, depending on the state's revenue picture which we'll know more about in mid-January. He has mentioned a sales tax holiday for back-to-school purchases.