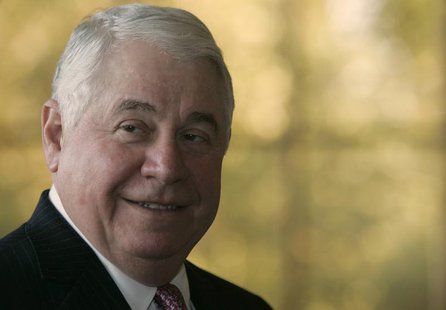 (Reuters) - Freeport-McMoRan Copper & Gold Inc said on Monday it reached an agreement with Chief Executive Richard Adkerson to cancel his employment agreement, giving up his guaranteed salary, benefits and rights to substantial severance in exchange for restricted stock worth about $36 million.
Adkerson, 66, will stay on as president and CEO of Freeport, the world's largest publicly listed copper miner, under a new "at will" agreement, with pay and benefits to be determined by the company's compensation committee.
Freeport said the move frees it of potentially sizable future severance or change-of-control payments to Adkerson.
According to the company's most recent proxy statement, Adkerson was eligible for $113 million in case of termination or $124.9 million in case of change-of-control termination.
Under the new agreement Adkerson was awarded a retention bonus of restricted stock units representing 1 million shares of the company, worth about $36 million based on Freeport's closing share price on Friday $35.69.
Adkerson, who has headed Freeport since 2003, had a base salary of $2.5 million a year, but his total direct compensation topped $17.3 million in 2012, including salary, bonus, stock options and incentives. That was a decline of 43 percent from the $30.6 million he earned in 2010.
In that same period, shares fell some 15 percent.
Freeport, like many other top mining companies, has faced criticism in recent years over high executive compensation at a time when declining metal prices and high costs have weighed on share value.
Freeport's stock was up slightly on Monday at $35.78 and has risen about 4.6 percent so far this year.
(Reporting by Julie Gordon in Vancouver, Michael Erman in New York and Swetha Gopinath in Bangalore; Editing by Leslie Adler)