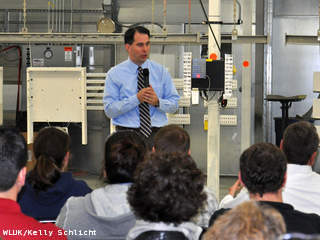 MADISON, Wis (WSAU-Wheeler News) The State Democratic Party has deleted an assertion on its Web site that Governor Scott Walker was forced out of Marquette University when he went to school there. That was after the Journal Sentinel's PolitiFact investigated the claim, and found there was no truth to it.
PolitiFact also found that Walker was not kicked out of Marquette's student elections, as Democrats had claimed.
The Republican Walker allowed Marquette to release a letter stating that he left voluntarily in 1990, and he was in good standing as a student with no conduct issues.
PolitiFact found that Walker went to Marquette from 1986-to-'90, and was 15-to-17-credits short of a degree when he left. He recently told reporters that he left school for a job with the Red Cross -- but he didn't say he was running for the state Assembly at the time.
Democrats still contend Walker "master-minded" a scheme to destroy Marquette newspapers that were critical of him when he was running for the student presidency in 1988. PolitiFact discovered that Marquette investigated a large theft of school papers that endorsed Walker's opponent for student president. The opponent blamed Walker supporters. His campaign denied any role in it, and the school never announced the results of its investigation.