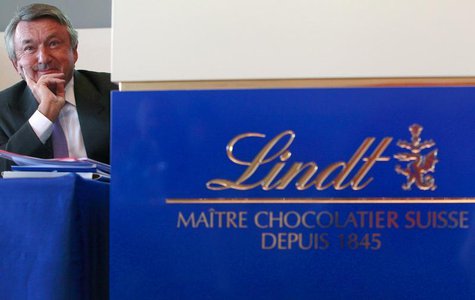 ZURICH (Reuters) - Swiss chocolate maker Lindt & Spruengli said improving consumer sentiment in its biggest market Europe and buoyant demand in North America helped lift underlying sales by 8.7 percent in the first half of the year.
The maker of gold-foil wrapped Easter bunnies and Lindor balls said the cold and rainy spring weather also boosted chocolate consumption.
Chocolate makers have seen demand pick up recently, helped by the economic recovery in the world's biggest chocolate market, North America, and increasingly affluent Asian consumers discovering their taste for sweets.
Rival chocolate maker Hershey reported an 18 percent jump in quarterly earnings on lower commodity costs and raised its outlook for the year, while Mondelez' flagship chocolate brands posted double-digit sales increases in the second quarter.
"Overall consumer sentiment in the main markets in Northern Europe and in North America was slightly positive in the first half-year and remains on a modest stable level in Southern Europe," the company based in Kilchberg on Zurich lake said in a statement on Tuesday.
Lindt reported a 5.8 percent rise in organic sales in Europe, which accounts for 65 percent of its sales, and a 12.7 percent rise in North America, where it generates almost 27 percent of sales.
Germany, France, the UK, and Switzerland achieved "good to very good growth rates", helped by new products, such as its "Hello" chocolate range, Lindt said. In crisis-shaken Italy, sales remained stable.
Overall sales rose to 1.132 billion Swiss francs ($1.22 billion), just ahead of an estimate in a Reuters poll, while net profit jumped 40 percent to 48.8 million Swiss francs, beating a 43.1 million estimate in the poll.
Vontobel analyst Jean-Philippe Bertschy said Lindt's underlying sales growth was "above all other global players" and the targeted margin improvement should be "rather easy to achieve".
Lindt confirmed it wanted to grow underlying sales by 6-8 percent this year and said it was aiming to increase its operating profit margin at the upper end of its long-term target range of 20-40 basis points.
"In the raw material sector, cocoa bean prices remained relatively stable while those of cocoa butter, milk and nuts increased," the company said.
Cocoa bean prices hit an eight-month high earlier this month over supply concerns in top growing region West Africa. ($1 = 0.9250 Swiss francs)
(Reporting by Silke Koltrowitz)