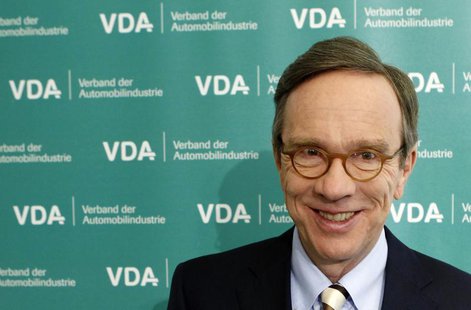 FRANKFURT (Reuters) - Europe's ailing car market grew in annual terms for only the second time this year in July, supporting hopes of a much-needed stabilization for battered producers in the second half of 2013.
Registrations of new cars in Europe rose 4.8 percent compared to the same month a year ago to 1.02 million vehicles, according to data published on Friday by the German auto industry association VDA.
Second quarter corporate results have also surprised by suggesting some mass-market producer are closer to breaking even in Europe than previously thought. But it is all happening at a very low base - sales are around the lowest in 20 years and overall are set to fall for the fourth year running.
"The positive July result ... is a good start for the stabilization we expect in the second half," VDA President Matthias Wissmann said in a statement.
"The emerging economic recovery in western Europe appears to be reflected in the development of car demand," he said.
He saw hope in double-digit gains in austerity-hit Spain, Portugal and Greece, where sales have roughly halved from peaks before the 2008 financial crisis.
An extra working day in Germany, the region's economic engine of growth, helped lift domestic sales slightly in July over the previous year's month, but Frankfurt-based market researcher Dataforce calculates that volumes there still shrank 2.3 percent when adjusted for this calendar effect.
Wolfsburg-based Volkswagen reported sales in its home market dropped 4.1 percent, diluting gains in China and the United States to reduce its global growth to the slowest in four months.
"Conditions in some markets were at times extremely challenging," VW sales chief Christian Klingler said. "The economic climate remains difficult."
Overall VW group sales rose 3.2 percent to 757,700 cars, sport-utility vehicles and light vans. Its seven-month European sales, including luxury brand Audi and sports-car maker Porsche, fell 3.1 percent to 2.16 million autos.
VW withstood most of last year's slump in Europe, the destination of 40 percent of its global deliveries, thanks to growth overseas and a wide range of models from small fuel-efficient vehicles like the Up! city car to ultra-luxury saloons including Bentley's Continental.
By contrast, automakers dependent on European markets such as PSA Peugeot Citroen have been suffering for months from the region's economic crisis, seeking to close factories and lay off staff to counter heavy losses.
Registrations in the first seven months of the year fell 5.2 percent to 7.46 million vehicles, but demand is expected to cease dropping materially as sales rates have started to recover and year-on-year comparisons become easier given the second half of 2012 was weak.
A senior Ford executive told Reuters earlier this week that a manufacturers' price war would not let up until sales increase significantly.
(Reporting by Christiaan Hetzner, Andreas Cremer and Maria Sheahan; editing by Patrick Graham)