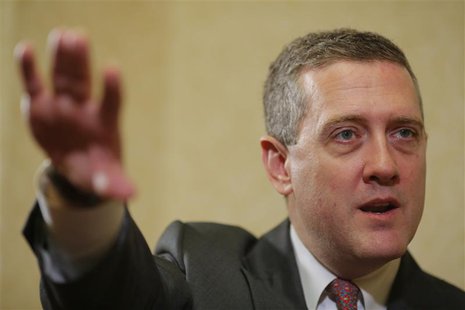 By Alister Bull
PADUCAH, Kentucky (Reuters) - Low U.S. inflation is worrisome for the country's economy and there is not much evidence it is heading higher, a senior U.S. Federal Reserve official said on Wednesday, highlighting an issue for the Fed as it weighs tapering bond purchases.
"Inflation has been running very low. I have been concerned about low inflation," James Bullard, president of the St. Louis Fed, told a Rotary Club luncheon in Paducah, Kentucky. "There has not been much indication, so far, that it has been ticking back up toward target."
Inflation measured by the PCE price index, the Fed's preferred gauge, is around half the level of the U.S. central bank's 2 percent target. The Fed last month explicitly nodded to the risks that prolonged low price pressures would pose for the economy.
The Fed plans to taper bond purchases from an $85 billion monthly pace later this year, provided the economy picks up as expected. Financial markets currently expect that process to begin at its meeting next month, but Bullard wants more time.
"The committee still needs to see more data on the macroeconomic performance for the second half of 2013 before making a judgment on this matter," he said at a second event in Paducah, a port town on the Ohio River in western Kentucky.
In considering whether to cut back on bond-buying, Bullard said the Fed would review developments in the labor markets, where unemployment has fallen since the latest bond purchase campaign began last September.
The Fed will also review growth, which he said has been "not so great" over the last three quarters, and it will look at the evidence on inflation, which Bullard said was an issue of credibility for the central bank.
The Fed's policy-setting "committee has set a target. They've set it at 2 percent," Bullard said. "Once you've set it, you had better have some credibility that you are going to hit it."
Bullard, a voting member of the committee this year, dissented at the June meeting, saying that the Fed should have signaled more strongly its willingness to keep its stimulus in place out of concern inflation was not heading higher.
Bullard has been particularly outspoken on the issue, and released an unusually sharp statement to explain his decision, although he voted with the majority at the July meeting after the inclusion of a low inflation warning in the statement.
Other officials have also said that they want assurance that low inflation is indeed transitory, as their forecasts predict.
In his second speech on Wednesday, to local bankers, Bullard also discussed the idea of having the Fed chairman hold press conferences more frequently, holding one after every policy meeting, instead of the current practice of one per quarter.
He said policy decisions should be dictated by incoming data, but there was a danger that the central bank could delay or accelerate decisions in order to announce major action at a meeting that would be followed by a press conference.
"The FOMC should make all meetings ex ante identical so that key decisions can be made at any juncture," Bullard said, referring to the policy-setting Federal Open Market Committee. "This would allow the committee to better align appropriate decisions with incoming macroeconomic data."
(Reporting By Alister Bull; Editing by Leslie Adler)