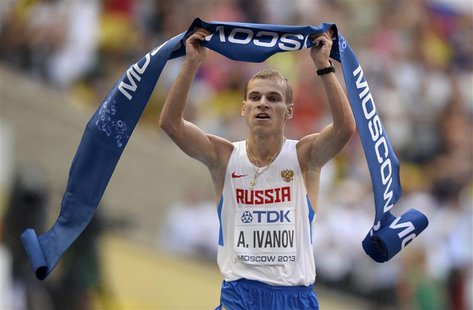 MOSCOW (Reuters) - Aleksandr Ivanov brought a sparse Luzhniki stadium to its feet and claimed a third successive men's 20-kilometre race walk gold for Russia on Sunday, becoming the youngest walk winner at a world championships.
Ivanov, 20, was greeted by a loud roar of approval as he clocked a personal best 1:20:58 to finish 11 seconds ahead of China's Olympic champion Chen Ding. Spain's Miguel Angel Lopez took bronze in 1:21:21.
Ivanov, continuing Russia's illustrious history in race walking, had been set to battle it out for gold with Olympic silver medalist Erick Barrondo. But the Guatemalan's hopes were crushed when he was shown a third yellow card and disqualified around two-km from the finish.
Russia's 2009 and 2011 world champion Valery Borchin is injured and did not defend his title.
(Reporting by Justin Palmer, editing by Alison Wildey)