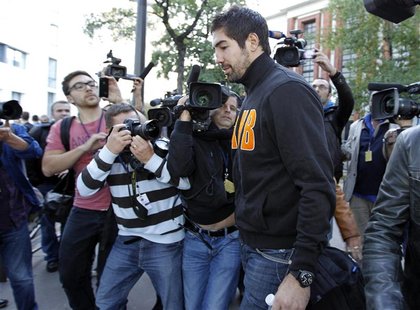 PARIS (Reuters) - Several Montpellier handball players have been arrested after an investigation into an alleged match-fixing scandal, a police source told Reuters on Sunday.
The source, who declined to be identified, said the players had been arrested after Montpellier's league game at Paris St Germain.
They were expected to be transferred to the Paris suburb of Nanterre for questioning by police, the source added.
A Reuters photographer saw French Olympic champion Nikola Karabatic being taken into a car by plain clothes officers. The car was later shown by French TV station Canal Plus entering a parking lot under the Nanterre police station.
Another police source also told Reuters that three people connected to the club had been arrested in Montpellier on Sunday as part of the investigation.
A judicial source said on Tuesday that French champions Montpellier were involved in an investigation relating to a first division match they lost at Cesson-Sevinge on May 12.
Club president Remy Levy told the local newspaper Le Midi Libre that he had been spoken to as part of the investigation but denied the club had been involved in match-fixing.
Montpellier will become plaintive in the case to "defend (their) honor", according to Levy, a move that would allow them privileged access to the case files.
"I cannot confirm nor deny because I'm a plaintive in the case," Levy told Reuters on Sunday.
Montpellier, the 2003 European champions, have been the French champions every year since 2008.
(Additional reporting by Dimitri Moulins in Montpellier; Reporting by Nicolas Bertin; Writing by Julien Pretot; Editing by John Mehaffey)