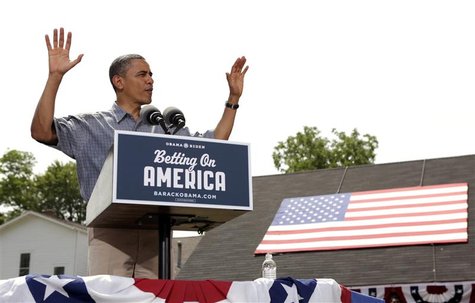 UNDATED (WSAU) President Obama is expected to visit Wisconsin a week from tomorrow to raise campaign money and hold a roundtable discussion. The campaign has not confirmed it, but several media reports say the event will take place at the Milwaukee Theatre on September 22nd. Invitations say donors would pay $250 for a general reception, $5,000 for a photo with the president at a V-I-P reception, and $25,000 to attend Obama's roundtable.
Ben Sparks of Republican Mitt Romney's Wisconsin campaign slammed the president for coming to Wisconsin just to raise money. Obama has not visited the Badger State since last February, when he toured Milwaukee's Master Lock plant.
Yesterday Vice President Joe Biden told about three-thousand supporters at U-W Eau Claire that the nation's top objective should be to become the most educated nation in the world. Biden said that both he and President Obama would not be where they are in life, had they not received financial aid for college. And Biden talked about the administration's plan for the U-S to have the highest percentage of college graduates of any nation in the world by 2020. Before leaving Eau Claire, the vice president spent a half-hour for lunch at Eau Claire's Acoustic Café.