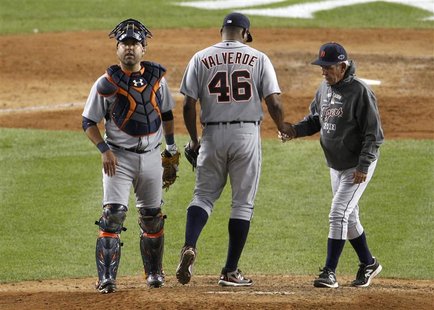 By Larry Fine
NEW YORK (Reuters) - Detroit Tigers closer Jose Valverde, who coughed up big leads in his last two appearances, has been put on the shelf, manager Jim Leyland said before Sunday's second game of the American League Championship Series.
Valverde, a perfect 49-for-49 in save situations last season, failed to protect a 4-0 lead in Saturday's opening game against the New York Yankees, allowing a pair of two-run homers in the bottom of the ninth that sent the game to extra innings.
The Tigers prevailed 6-4 in 12 innings but Leyland said Valverde, who squandered a 3-1, ninth-inning lead in Detroit's Game Four loss to the Oakland Athletics in the Division Series, would be working on his delivery to get back on track.
"He will not close the game today if it is a close situation," Leyland told reporters. "I still consider him the closer, but he will not close the game.
"We will do some work with him ... we were looking at some stuff about his delivery. It is way too slow, the tempo is not good at all. So we're going to have to make an adjustment and I will not close the game with him today."
Leyland did not name a replacement for Valverde, saying he would use a closer by committee approach in Sunday's Game Two.
"I cannot tell you I have a definite closer for it, one name. I cannot give you one name. I have a suggestion box down by my office," he said with a laugh.
The Tigers manager, while frustrated by Valverde's struggles, said he was not giving up on the 34-year-old Dominican, who has been a vital contributor to the Tigers.
"This guy saved 110 games out of 118 opportunities in the last three years as Detroit Tiger closer. That's pretty good. Forty-nine for 49 last year. Thirty-five for 40 this year.
"The last three outs are very tough to get, and it takes a special cat in a lot of cases to do that."
(Editing by Frank Pingue)