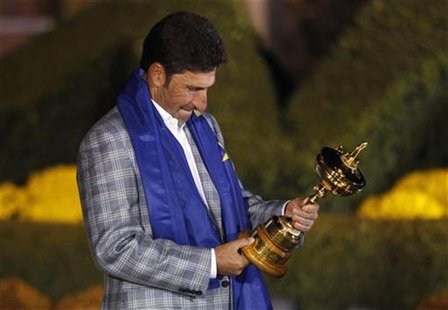 LONDON (Reuters) - European Ryder Cup captain Jose Maria Olazabal, thrilled by a message of congratulations from the King of Spain, was still riding a wave of emotion on Tuesday following his team's spectacular victory over the United States.
Europe fought back from 10-6 down going into Sunday's singles matches and Italian Francesco Molinari halved the final game against former world number one Tiger Woods to seal a dramatic 14 1/2-13 1/2 win over the shell-shocked hosts.
"I'm still riding the wave," Olazabal told a news conference in London. "It was an emotional week and a tough one to begin with but the outcome was wonderful and while the phone has been really hot, out of all the messages there is one that stunned me.
"The King of Spain called me and he was over the moon like me so that was a nice one."
Europe trailed 10-4 on Saturday afternoon but Sergio Garcia and Luke Donald clung on to beat Woods and Steve Stricker and Ian Poulter birdied the last five holes to earn himself and Rory McIlroy a one-hole win over Jason Dufner and Zach Johnson.
"Saturday afternoon was crucial," Olazabal said. "Those last two matches were crucial for the outcome of the cup."
The Spaniard experienced a special moment during the singles matches as he stood on the 12th tee.
"I was waiting for Lee Westwood to come on to the tee and I looked at the board and all five matches had been won by Europe," Olazabal said.
"I looked at the rest and there was a little gap where everything was red but we were doing OK. All square or maybe one up.
"Lee came on to the tee and asked me how I was doing - I had done my maths and thought we still had a chance of winning and I had to walk away. He realised that I was very emotional at that time and when he was stood over his ball he was thinking: 'Wow I need to win my point'."
GLENEAGLES CAPTAIN
Olazabal was asked if he would like to lead the team again in the next Ryder Cup at Gleneagles, Scotland in 2014.
"Yes in a way but I can assure you that is going to be a no," he said. "First of all it's a lot of work. It takes a lot of you during the stretch of time from when you're named captain to the playing of the Ryder Cup.
Olazabal said there were a lot of other players who deserved the chance to captain the side.
"It's played once every two years and there are a big number of players that have the chance to be in my position, so clearly I won't do it again."
Olazabal said three of his vice-captains at Medinah, Paul McGinley, Darren Clarke and Thomas Bjorn, were strong candidates for the role.
"Once they do it there is Lee Westwood and Padraig Harrington. There is a list of eight or nine guys that have a chance of doing it.
"It would be unfair for me to just name one and I will leave that to the PGA but all of them deserve that position."
Belgian rookie Nicolas Colsaerts, who produced an inspired putting display to win a point for his team with Westwood in a fourball match on Friday, paid tribute to Olazabal's contribution.
"He's got an unbelievable size of a heart, he lived for this game all of his life and he made clear to us that this thing was going to be very special to him so everyone looked at each other and understood the importance of the cup in this man's life," Colsaerts said.
"When you look in this guy's eyes, it's pretty intense, just as much as he showed when he played."
(Reporting by Ed Osmond; Editing by John Mehaffey)