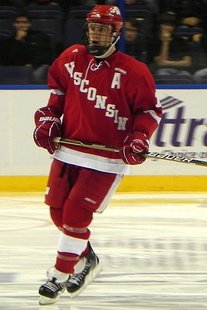 MADISON, WI (WTAQ) - Just a little over three minutes of action was left when Tyler Barnes found the net on a power play, giving the Wisconsin men's hockey team a 1-1 tie with Michigan Tech.
The first two periods of the WCHA showdown at the Kohl Center had been scoreless.
Landon Peterson made three of his 30 saves for the Badgers in a scoreless overtime.
The tie ends the Huskies' seven-game losing streak on the Madison ice. Wisconsin's record is now 2-7-4, including 2-5-4 in conference play.
The two teams meet again Saturday.