« back to Movies
Earth (2007)
Release Date: April 22, 2009
Genres: Documentary
Cast: James Earl Jones, Patrick Stewart, Ulrich Tukur, Ken Watanabe
Directors: Alastair Fothergill, Mark Linfield
Distributor: Walt Disney Films
Narrated by James Earl Jones, "Earth" tells the remarkable story of three animal families and their amazing journeys across the planet we call home. "Earth" combines rare action, unimaginable scale and impossible locations by capturing the most intimate moments of our planet's wildest and most elusive creatures.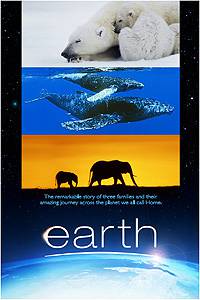 Show Times / Buy Tickets
There are no current showings for Earth (2007) in this area.