« back to Movies
Fangoria Presents: Silent Night, Deadly Night
Release Date: None
Genres: Family, Suspense/Thriller, Program
Cast: Lilyan Chauvin, Gilmer McCormick, Toni Nero, Robert Brian Wilson, Britt Leach
Directors: Charles E. Sellier Jr.
Distributor: Screenvision
Fangoria Presents unwraps Charles E Sallier Jr.'s 1984 holiday cult horror classic SILENT NIGHT, DEADLY NIGHT, in theaters this December! SILENT NIGHT, DEADLY NIGHT tells the tale of Billy Chapmen, orphaned at five after witnessing the murder of his parents at the hands of a Santa suit-clad madman on Christmas Eve. Now eighteen and out of the brutal grip of orphanage nuns, Billy is forced to confront his greatest fear, sending him on a rampage, leaving a crimson trail in the snow behind him. Fangoria Presents, in conjunction with Screenvision, delivers this seasonal slasher essential in a stunning new HD transfer for the ultimate experience in ho-ho-horror!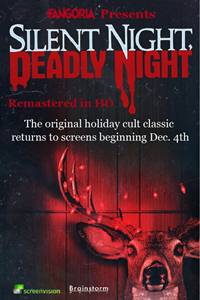 Show Times / Buy Tickets
There are no current showings for Fangoria Presents: Silent Night, Deadly Night in this area.