« back to Movies
Kick-Ass 2
Release Date: Aug. 16, 2013
Genres: Action/Adventure, Comedy
Cast: Aaron Taylor-Johnson, Chloe Grace Moretz, Christopher Mintz-Plasse, John Leguizamo, Donald Faison, Nicolas Cage
Directors: Jeff Wadlow
Official Site: http://www.kickass-themovie.com/
Distributor: Universal Pictures
When we last saw junior assassin Hit Girl and young vigilante Kick-Ass, they were trying to live as normal teenagers Mindy and Dave. With graduation looming and uncertain what to do, Dave decides to start the world's first superhero team with Mindy. Unfortunately, when Mindy is busted for sneaking out as Hit Girl, she's forced to retire - leaving her to navigate the terrifying world of high-school mean girls on her own. With no one left to turn to, Dave joins forces with Justice Forever, run by a born-again ex-mobster named Colonel Stars and Stripes.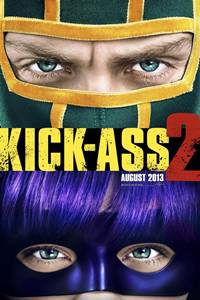 Show Times / Buy Tickets
There are no current showings for Kick-Ass 2 in this area.