« back to Movies
Meet Me in St. Louis (1944)
Release Date: None
Genres: Musical, Romance, Family
Cast: Judy Garland, Margaret O'Brien, Mary Astor, Lucille Bremer, Leon Ames, Tom Drake, Marjorie Main, Harry Davenport, June Lockhart, Henry H. Daniels Jr.
Directors: Vincente Minnelli
Distributor: MGM
The well-off Smith family has four beautiful daughters. Seventeen-year-old Esther has fallen in love with John, who has just moved in next door. He however, barely notices her at first. The family is shocked when Mr. Smith reveals that he has been transferred to a nice position in New York, which means that the family has to leave St. Louis and the 1903 St. Louis Fair.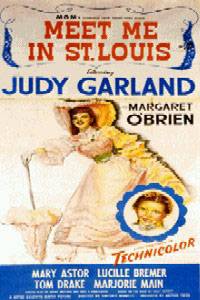 Show Times / Buy Tickets
There are no current showings for Meet Me in St. Louis (1944) in this area.