« All Events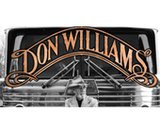 Y100 Presents Don Williams
When:

Tue, April 8 , 7:30 PM - 9:30 PM

Where:

Category:
Event Details

Y100 Presents: Don Williams, known as The Gentle Giant of Country Music, Tuesday, April 8th at the Meyer Theater, downtown Green Bay.

All of his greatest hits will be brought back to life, including, I Believe In You, Tulsa Time and many, many more.

Tickets start at only $84.00 and are on sale now. 800-895-0071 and the Resch Center box office.

Join Y100 for a great night of music and memories with Don Williams on April 8th.